Motel cabins for 2 persons
Cabin size: 19 m2
Cabin for 2 persons
Fjord view of the Limfjord
Covered terrace
Toilet, bath & kitchen
Free Wifi
For rent all year round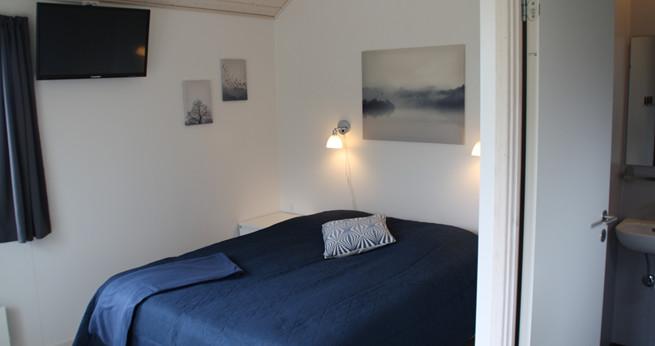 These 4 pcs. new "motel cabins" which were taken into use from July 2019, are furnished as a hotel room with 2 beds of 80 cm each, 2 bedside tables, kitchen with table and 2 chairs, as well as flat screen TV.
There are duvets and pillows in the cottage. Linen can be rented in the information.
There is a kitchen with 2 hotplates, convection oven, refrigerator, coffee maker, kettle, cooking utensils, crockery, hot and cold water, and electric heating.
The cabins are located opposite our family cabins with toilet & shower.
There is a covered terrace with table & chairs, as well as a tiled terrace on both the south & west side.
There are nice views of the fjord from the cottages.
The cabins are year-round insulated according to the latest requirements, so they are very energy-friendly.
Pets / dogs & smoking are not allowed in these cabins.
Please refer to our standard cabins instead
We have our own restaurant & shop. See more about our restaurant here - See more about our store here
See also our double rooms & family cabins with shower & toilet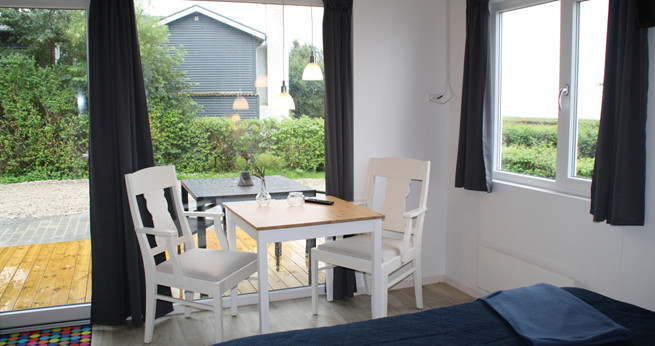 Prices motel cabins for 2 persons with toilet, shower & kitchen
Period

Week number

Per week
DKK / EURO

Per day
DKK / EURO

1.1.-2.4. & 29.10.-31.12.
1-13 & 44-52
2650 / 373
595 / 84
2.4.-7.5. & 10.9.-29.9.
14-18 & 37-43
3195 / 450
630 / 89
7.5.-25.6. & 3.9.-10.9.
19-25 & 36
3695 / 520
695 / 98
25.6. - 6.8.
26 - 31
5295 / 745
850 / 120

6.8. - 3.9.

32 - 35

4795 / 675

795 / 112

Final cleaning

295 / 41
295 / 41
The price is incl. 2 people, but exclusive electricity consumption